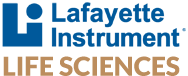 HHD/MMT DOWNLOAD TOOL
Model 01165D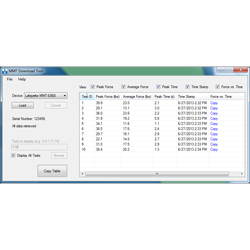 DESCRIPTION
Software that allows easy download of the stored values from the Model 01165 Lafayette Hand-Held Dynamometer (formerly Manual Muscle Testing System) to your computer via a Bluetooth connection. The software is capable of displaying peak force, average force, time to peak, test date and time and force over time data. Free updates are available with an internet connection.
SPECIFICATIONS
MINIMUM COMPUTER SYSTEM REQUIREMENTS
Windows XP SP3, Windows Vista 32/64, Windows 7 32/64, Windows 8 32/64, or Windows 10
Requires 6 MB hard drive space, 10 MB of RAM, .NET Framework 4.0
Keyboard and Microsoft® Mouse or compatible pointing device
Bluetooth Connection
REQUIRED ACCESSORIES
LAFAYETTE HAND-HELD DYNAMOMETER

Model 01165
The Lafayette Hand-Held Dynamometer (formerly known as the Manual Muscle Tester) is a revolutionary, hand-held strength measurement system that combines precision and accuracy with a new ergonomic design to provide you with accurate, objective, and reliable results.
Copyright © 2009 - 2019 lafayette Instrument Company. All Rights Reserved.